Authentic Spanish 1/2 real coin with a
Jerusalem cross. Mint and assayer are
unknown, but this cross style was featured
between 1652 and 1772. This coin is very
thin.
---


Authentic Spanish 1 real coin with a Greek
cross and a King Philip III coat of arms. This would
date it between 1598 and 1621.
---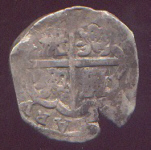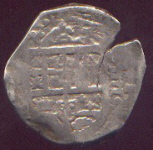 This authentic Spanish 4 reales coin has a weak
coat of arms, but the Greek cross style would
probably date it between 1571 and 1652. Notice
the split on the coin caused from stress when it
was being stamped.
---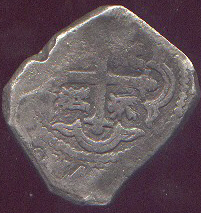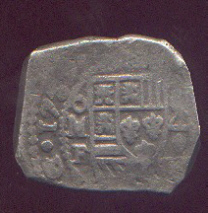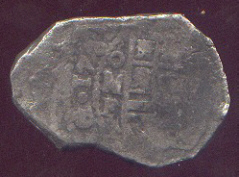 Authentic silver pieces of eight (8 reales coins). Made between 1730 and 1733 under the rule of Philip V. They bear the Mexico mint mark, and the assayer's mark of "F" for Felipe Rivas Angulo. These two coins were found off the coast of Holland in the wreck of the Dutch East Indiaman, t'Vliegent Hart, which sunk in February 1735.

---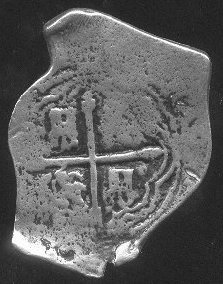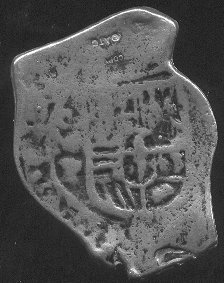 Replica of a Spanish piece of eight (8 reales coin) and an
extreme example of the irregular shapes that cob coins can
be. The term "cob" stands for "cut off bar". This came from
the Spanish phrase, "cabo de barra". A chisel was used to
cut a piece of metal off the end of a bar of gold or silver,
and flattened. Then the flat planchets were hand stamped
with dies. Finally the assayer weighed the coins and trimmed
them to the correct weight. The result was an irregularly
shaped coin. No two cob coins are exactly alike.
This coin was found in the wreck of the Atocha, which
sailed from Havana in 1622. It has a Florenzada cross
and was made by the Atocha Treasure Company.
---
---
HOME - GOLD COINS - GOLD BARS - COPPER & BRONZE COINS
MOVIES & BOOKS - CAP'N MORGAN - MISCELLANEOUS ITEMS - LINKS
---